4 years of Proud Existence
Founded in 2018, now we are a 4-year rookie becoming 1 of The Top 10 Blockchain Developers in Vietnam. Twendee has made the way from a promising technology startup to a leading software development company in Vietnam serving hundreds of customers worldwide. We have the adaptability, creativity as well as a high level of expertise to ensure that all customer problems are solved. Twendee can cover all aspects of software development including web/mobile application, blockchain development, ready-made software solutions, and dedicated development teams.

Our Core Values
Twendee's core values are the foundation and humanity of the company. They represent the way we behave towards each other, our customers, and drive our approach to work and business.
Personalization
Personalization is a fundamental aspect of business can thrive without it in today's highly competitive market.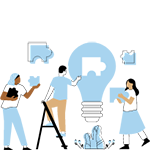 Teamwork
Working in a team encourages personal growth, increases job satisfaction, and reduces stress.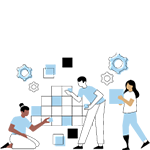 Communication
Communication boosts employee morale, engagement, productivity, and satisfaction.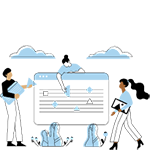 Collaboration
Collaboration improves work quality as team members share, audit, combine, and improve ideas, plans, and strategies to deliver high-quality work.
Our Key Differentiators
There are numerous Software development firms providing the same or similar set of services like us and this has given rise to a need to be different. In our commitment to deliver the best services to solve customer needs thoroughly with affordable prices. We take pride in sharing with you, a few of our differentiators.
1
Quality
All needs will be solved, aiming to achieve the best results in business operation.
2
Price
Many incentives belongs with multiple type of packages that businesses will not have to worry about costs when using services at Twendee.
3
Dynamic Company Culture
People are our most valuable assets: We support team members' careers from start to finish.
Our Esteemed Clients
50+ Happy Clients in 10+ Countries. Startups, SMEs, ISVs, Digital Agencies and Enterprises Love Us.
50+ professionals
We believe that progress is made through understanding customers, perfectionism, constantly learning and putting the interests of customers first. All our professionals are hired after a stringent recruitment process. We also provide them regular training to keep them abreast with the latest trends in IT development.
Development Technologies
Twendee deploys the most advanced technologies to bring the highest standards to global customers at the fastest speed and with an affordable cost.

Spring

ReactJS

VueJS

Laravel

Hibernate

SringBoot

PHP

Java

Javascript

Css3

HTML5

NodeJS

Oracle

MySQL

Postgres
MongoDB

Tomcat

Glassfish

Ngnix

AWS

Windows

Sun Solaris

iOS

Android
Tell us about your project
Send us a message and we'll get back to you as soon as possible.