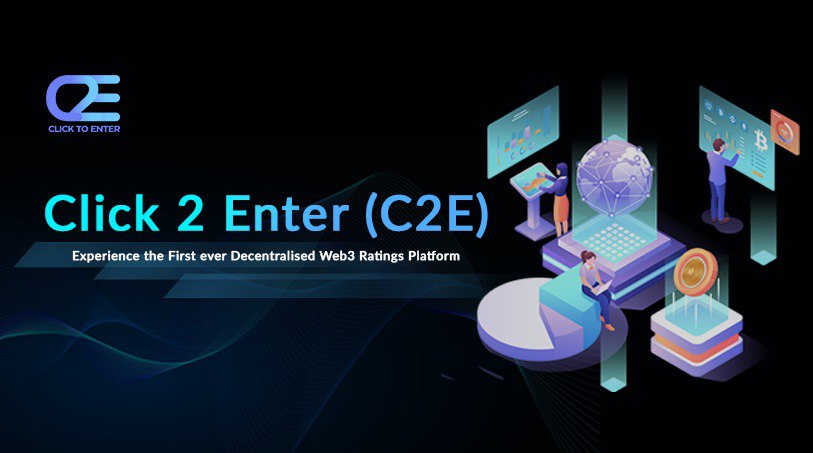 C2E: Bridging the Gap in the Web3 Ecosystem through Trust, Collaboration, and Incentivization
The rapid expansion of the Web3 landscape has brought forth a multitude of opportunities for users and investors alike. However, this growth has also given rise to several challenges such as the lack of transparency and trust in Web3 project reviews, misleading information and scams affecting user confidence, and the absence of a unified platform for discovering, rating, and reviewing Web3 projects. Additionally, users often face difficulties in identifying genuine experiences and insights, while new Web3 users and investors encounter limited accessibility and inclusivity
What is C2E
C2E is a comprehensive platform designed to empower users with the knowledge and resources necessary to navigate and thrive in the decentralized world of Web3 and blockchain technology. Our primary objective is to create a seamless user experience that enables individuals and organizations to discover, engage with, and contribute to the growth of high-potential projects in the decentralized space.
C2E unites the Web3 ecosystem through transparency, collaboration, and incentivization, providing solutions to the aforementioned challenges. By offering AI-assisted, unbiased reviews, we ensure transparency and trust within the platform. The community-driven nature of C2E helps filter scams and misinformation, while our IMDb-like hub for Web3 projects enables users to easily discover, rate, and review projects. C2E also highlights valuable insights for better decision-making and simplifies Web3 exploration for the next billion users with an inclusive, accessible platform.
By addressing these challenges and offering innovative solutions, C2E is poised to become a trusted and reliable hub for Web3 innovation, fostering a vibrant and informed ecosystem that drives the future of decentralization.
What were the key challenges?
Solving the problems of lack of Trust and Transparency
How are you going to know if the project you're looking at is trustworthy?
Is it a scam? Will I get scammed? What if it turns out that I wasn't scammed, but just didn't get my money's worth? How do I know that the project is doing what they say it's going to do?
All of us have been there. We want to make a fresh investment, but we don't want to lose or have our money stolen. We can help with that!
By making it easier for individuals to locate frank reviews on any Web3 community, C2E hopes to address this problem. Before you decide to invest your hard-earned money, you will be able to make an informed choice thanks to the information we will be able to give you about each project and its team, including who owns it and where its funding comes from. With us, you won't have to stress over whether someone may take advantage of you for their personal gain.
Our Solutions
We started working on C2E because we noticed there was no good way for people who were looking for projects or communities to interact. The Web3 space is so vast and diverse that it's difficult for users to find what they're looking for without having to spend hours scouring every single website on their list.
We're currently working on a few things that will make it simple for folks to learn what's happening in the Web3 realm. The first is our website, where we'll post all our reviews and links to other pertinent information about the area. Additionally, we are working on an app that we believe will make it simple for people to view all our material and get in touch with other crypto and Web3 aficionados across the world!
Our Similar Completed Projects
Tell us about your project
Send us a message and we'll get back to you as soon as possible.